Homeowners across the country choose StyroTrim brand stucco and cement 'do-it-yourself' products to help them transform their simple, traditional aging houses into more visually appealing, modern, customized homes.
Stucco and cement-coated foam treatments
StyroTrim adds architectural class, style and a more finished look to Stucco bungalows, which have become virtually ubiquitous. Switch to StyroTrim to transform your house into a beautiful home of your dreams!!
Are you ready to modernize and enhance the look of your home, but apprehensive about the quality and cost involved...?
Before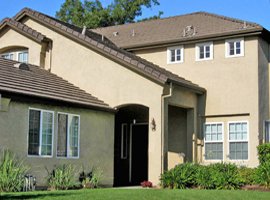 After
StyroTrim offers the highest quality, most cost-effective Stucco and cement-coated foam treatments for interior and exterior residential and commercial structures. These architectural accents are specially crafted to beautify the interior and exterior of your home or structure, while rendering maximum durability.
Stucco is a fine plaster made from Portland cement, sand and lime, and applied while soft to cover exterior walls or surfaces. It is also used for internal decorations and fine work, and is durable, attractive, and weather-resistant.
---
Why StyroTrim Stucco and cement coated foam?
---
StyroTrim has over 100 wall, window and door accents in over 600 shapes to choose from; Available in decorative and flat trims, arches, sills, columns, shutters, and more.
Transforms a present structure into something unique and absolutely appealing by giving 'that perfect touch' and 'adding to the texture'.
Most affordable architectural accents, without the weight of alternative construction elements or expensive labor costs.
Requires very little preparation work and is extremely easy to install. Whether you are a trained craftsman or a novice do-it-yourselfer, StyroTrim stucco and cement coated accents arrive ready for you to cut, glue, caulk (with the company's own StyroCaulk®) and paint, - and you're done!